We are highly experienced workers' compensation, personal injury, and civil litigation attorneys. Give us the opportunity to help make your life better. Schedule a no cost consultation about your case today.
The Jernigan Law Firm in Raleigh
North Carolina Workers' Compensation & Civil Litigation Attorneys
Founded in 1988, the Jernigan Law Firm is a highly experienced law firm in North Carolina representing injured workers (teachers, firefighters, professional athletes, construction workers, plant employees, nurses, law enforcement officers, truck drivers, and executives) all across the state.
Leonard T. Jernigan, Jr. and Kristina B. Thompson are both North Carolina State Bar Board Certified Legal Specialists in Workers' Compensation Law.
Mr. Jernigan wrote the book: North Carolina Workers' Compensation: Law and Practice, with Forms now in its Fifth Edition.
Since 1996, Mr. Jernigan has represented injured professional athletes in the National Football League (NFL), the National Hockey League Players Association (NHLPA), and the Professional Hockey Players Association (PHPA)
Workers' Compensation
Civil Litigation
Personal Injury
Auto Accidents
The Jernigan Law Firm is your source for personal injury attorneys in Raleigh, NC and the surrounding areas. The professional and courteous personal injury lawyers at Jernigan Law Firm provide sound legal advice and represent clients involved in:
And Other Civil Cases Involving Injury in Raleigh, Cary, Durham, Apex, Chapel Hill, and Other Areas in North Carolina.
  2018 Top Ten Workers' Compensation Fraud Cases  By: Leonard T. Jernigan, Jr. and Law Clerk, Alondra Bribiesca Raleigh, North Carolina Non-Employee Fraud Cases - 10   $ 99.7 [...]
Today's post comes from Kristina Thompson at the Jernigan Law Firm. What does a disability rating mean for my workers' compensation case?  Part 1:  The Rating. One important, and [...]
Mission Statement
---
This law firm is dedicated to helping clients achieve a just and fair resolution of their legal problem, by holding ourselves to the highest ethical and professional standards. We will be diligent and reliable. We will be honest, compassionate and tolerant. Integrity will be our guiding star. We will work as a team for the benefit of our clients and will exhibit consideration and respect for the well being of all persons. We are also committed to making contributions to our society and profession, and through continuing legal education and study we will maintain our knowledge of the law.
At the same time we are also dedicated to providing a stable economic and pleasant environment for all employees. We will keep ourselves mentally and physically healthy, maintain a sense of humor, and develop our unique gifts and creative talents.
Author
---
Mr. Jernigan is the author of North Carolina Workers' Compensation: Law and Practice, with Forms (published by Thomson Reuters®). The text is now in its Fifth Edition and is supplemented annually. This overview of North Carolina workers' compensation law provides a useful resource for practitioners seeking current coverage of North Carolina's complex Workers' Compensation jurisprudence. For further information call (800)328-4880.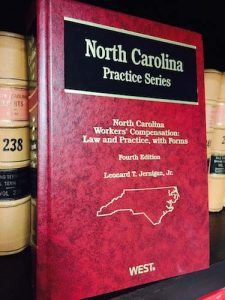 Get A Free Consultation
We can help. Please call us at (919)833-0299 for a free consultation, or use the "Contact Us" form below. Give us the opportunity to make your life better. In most cases we work on a contingency fee basis, so we do not charge attorney fees unless we are able to recover for you.