North Carolina Workers' Compensation & Civil Litigation Attorneys
Founded in 1988, the Jernigan Law Firm is a highly experienced law firm in North Carolina representing injured workers (teachers, firefighters, professional athletes, construction workers, plant employees, nurses, law enforcement officers, truck drivers, and executives) all across the state.
Leonard T. Jernigan, Jr. is a North Carolina State Bar Board Certified Legal Specialist in Workers' Compensation Law.
Mr. Jernigan wrote the book: North Carolina Workers' Compensation: Law and Practice, with Forms now in its Fifth Edition.
Since 1996, Mr. Jernigan has represented injured professional athletes in the National Football League (NFL), the National Hockey League Players Association (NHLPA), and the Professional Hockey Players Association (PHPA)
Workers' Compensation
Civil Litigation
Personal Injury
Auto Accidents
The Jernigan Law Firm is your source for personal injury attorneys in Raleigh, NC and the surrounding areas. The professional and courteous personal injury lawyers at Jernigan Law Firm provide sound legal advice and represent clients involved in:
And Other Civil Cases Involving Injury in Raleigh, Cary, Durham, Apex, Chapel Hill, and Other Areas in North Carolina.
Today's post comes from Kristina Thompson at the Jernigan Law Firm. North Carolina Workers' Compensation Insurance Premiums Decrease by 17.2% on Average Last year (2018) the North Carolina Rate [...]
Today's post comes from Leonard T. Jernigan, Jr. at the Jernigan Law Firm. Book Review:  Irresistible - The Rise of Addictive Technology and the Business of Keeping Us Hooked [...]
Excellent counsel from an experienced practitioner- highly recommend.

Jim Williams
19:48 20 Mar 22
Response time was quick, representation effective.

Brian Hamilton
04:14 22 Apr 21
Len and his team are the best. They take great care of their clients and will make the process extremely easy every step of the way. They don't have all of these amazing reviews for no reason. Highly recommend!!

Best form in the Triangle!! Great staff. The entire team cares about the clients. Highly recommend!!!

Sonny Merrill
01:55 19 Sep 19
Based on my brief interactions I would not hesitate to hire or recommend this firm. Kristi Thompson promptly reached out to me after an inquiry and was professional, personable, and helpful.

The attorneys and staff at Jernigan Law are dedicated, kind and of the highest quality! I am grateful for their hard work on my behalf.

Nancy Stokes
17:35 21 Nov 18
Leonard restored my faith in lawyers. He took great interest in getting my mother the benefits she deserved. In the process he became a friend to my entire family.

Christopher Dudley
13:13 26 Jul 18

Wiley Nickel
12:53 19 Jun 18
Any time an attorney is needed it is likely a difficult time in a person's life. The professionals at Jernigan Law Firm excel at treating individuals as people, not just as clients. I have the utmost respect for Mr. Jernigan and would highly recommend this firm to anyone looking for an employment/workers compensation attorney. Communication is prompt, service is of the highest quality, and compassion is never lacking.

Hannah Goodson
17:04 29 May 18
Awesome Staff!! This law firm is exactly what u expect...great people who have a heart to help others!

Michael Lewis
16:48 08 May 18
Mission Statement
---
This law firm is dedicated to helping clients achieve a just and fair resolution of their legal problem, by holding ourselves to the highest ethical and professional standards. We will be diligent and reliable. We will be honest, compassionate and tolerant. Integrity will be our guiding star. We will work as a team for the benefit of our clients and will exhibit consideration and respect for the well being of all persons. We are also committed to making contributions to our society and profession, and through continuing legal education and study we will maintain our knowledge of the law.
At the same time we are also dedicated to providing a stable economic and pleasant environment for all employees. We will keep ourselves mentally and physically healthy, maintain a sense of humor, and develop our unique gifts and creative talents.
Author
---
Mr. Jernigan is the author of North Carolina Workers' Compensation: Law and Practice, with Forms (published by Thomson Reuters®). The text is now in its Fifth Edition and is supplemented annually. This overview of North Carolina workers' compensation law provides a useful resource for practitioners seeking current coverage of North Carolina's complex Workers' Compensation jurisprudence. For further information call (800)328-4880.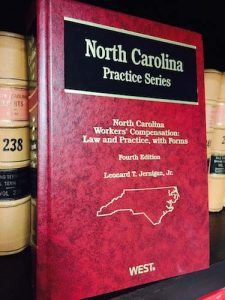 Get A Free Consultation
We can help. Please call us at (919)833-0299 for a free consultation, or use the "Contact Us" form below. Give us the opportunity to make your life better. In most cases we work on a contingency fee basis, so we do not charge attorney fees unless we are able to recover for you.